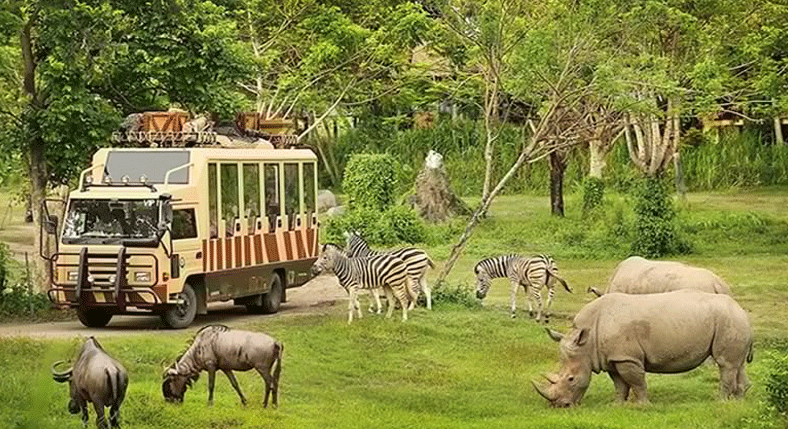 GENERAL INFO
Bali Safari and Marine Park tour provides a unique experience in the lap of nature, especially to the travelers who are doing it for the first time. It will improve your bond with nature and various living creatures. In fact, it is a fun day out with family and friends at the most visited and largest animal theme park in Bali. The park is stretched over 40 hectares in the Gianyar regency.
Here, you can hop on a safari bus or ride in customized trams to explore the huge range of wildlife in their own habitat in the open range. The crew here is very serious about comfort and safety of visitors. You can capture those wild creatures in your camera without any restrictions. It is one of the best parts while visiting here. In an amusement park here, you can have great time with loved ones while enjoying water activities.
The park houses over 400 wildlife species from Africa and South Asia. You may see some of the rare species like Nilgai, Spotted Deer, Himalayan bears, black bucks, African Hippos, zebras, camels, ostriches, baboons, lions, tigers and blue wildebeests. Over 60 animal species here are roaming freely. So, you can have a great chance to spot them in their own surroundings. Along with it, you can cuddle the baby orangutans, enjoy the elephant shows and meet the baby sharks at aquarium.
You can also tour the major exhibits in this tour, including the Kampung Gajah (Elephant Village), Komodo dragon exhibitions, and the Ranthambore to explore the iconic white tigers.