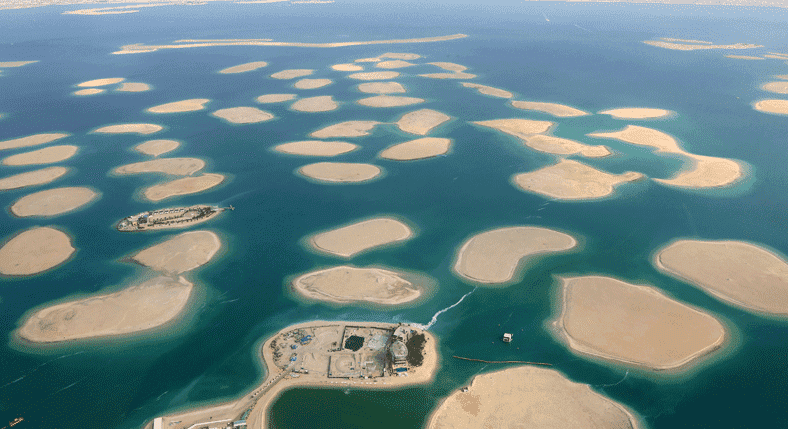 General Info
The World Islands is one of the most revolutionary projects in Dubai as it includes all continents with several natural attractions and it is asserted in simple way. The World's Island has been designed as a world map from the coast. The island offers endless fun and exclusive shapes of island and it was planned and designed by Nakeel. It is one of the well-planned artificial islands surrounded by breakwater of oval shape by using the sand that is soaked off the sea. It is well known as a globe world and palm world 4 km off the main shore of Palm Jumeirah. It has around 300 private small man-made islands split into four parts – estate homes, private homes, community islands and dream resorts. It is located between Port Rashid and Burj Al Arab built to create the replica of real world.
The inspiring vision behind this artificial island adds great value to the economy of Dubai. The most impressive manmade attraction in the world has created more premium space for business venture, residences and tourists' area. It is known as the most amazing tourist attraction built in the ocean and is one of the best places pumped from the floor with massive amount of sand using giant machinery.
It is blended with fertile soil to create solid and stable base to have more robust foundation to get more natural look. It is an iconic attraction which opens its door to the visitors which should be visited at least once in a life. The island has beautiful beaches to embrace the breathtaking views of this city. You can enjoy beautiful and romantic night at a very exotic spot with friendly services of staff.
The island has some of the delightful amenities like volleyball court, swimming pool, bars and restaurants. It is the best location for dinner, party and just enjoying tranquil views of city's skyline. The island presents several amazing developments. The infrastructure was planned with an aim to promote tourism. It ensures ample convenience and safety of visitors. It is a very peaceful location to have fun for the visitors. It is an inspiring reality and vision by the creators of exotic Palm Deira, Palm Island and Palm Jumeirah.
Attractions
Island shaped in the form of world map
Attractive place with pleasant attractions
300 manmade and artificial islands
Shows insight to the real world
Breathtaking views at day and night