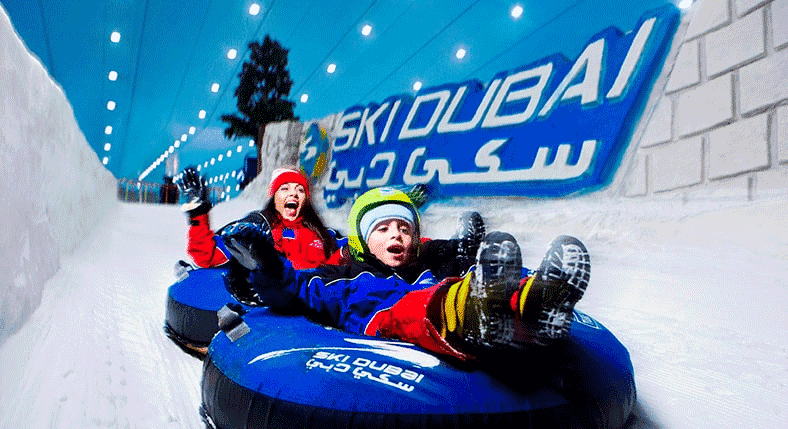 General Info
Snow Park Dubai is the largest artificial snow park in the world which is stretched over 3000 sq. ft. and has become the important tourist destination that you should visit in Dubai. It is a great entertainment and fun destination at tobogganing hills. It consists of a snow cavern with great experiences, Twin tack Bobsled runs. You can also ride on a Giant Ball to give breathtaking views of the whole park. You can enjoy the feel of mountains at Ski Dubai where you can play with the real snow and enjoy the great range of snow games.
There are a huge number of snow activities to beat the heat of the city and fill you with lots of excitement. You can enjoy different activities like march, playing and dancing of penguins at any time of the day by visiting snow park. In the Mall of the Emirates, it is the first indoor ski resort where you can enjoy the beautiful snow setting to enjoy skiing, such as skating, snowboarding, and tobogganing. You can have a lot of fun in the desert and play at the park. There are experienced and well qualified instructors who will guide you to enjoy the activities.
You can enjoy the delightful dishes and cozy accommodation at several world-class restaurants and hotels, which offer soft shoes and warm clothes so you can enjoy the adventure for lifetime. In this man-made snow park, you can visit the magical settings where snowfall happens every time. It will really give memorable experiences to surprise the visitors and add more thrill to this snow park. All in all, there is no lack of fun activities for full family in the indoor snow park where parents can also have fun in recreational activities with their kids when playing on hills.
Highlights
Have fun in the snow no matter what's the season outside
Visit the world's largest manmade snow park
Ride, spin, roll and slide on the snow
Enjoy penguin activities
A fun and joyful and experience for the people of all ages
Things to Know
Timings – 10 AM to 11 PM from Saturday to Thursday and from 9 AM to 12 Midnight on Fridays
Carry comfortable shoes and warm clothes
Entry fee is applicable in the park