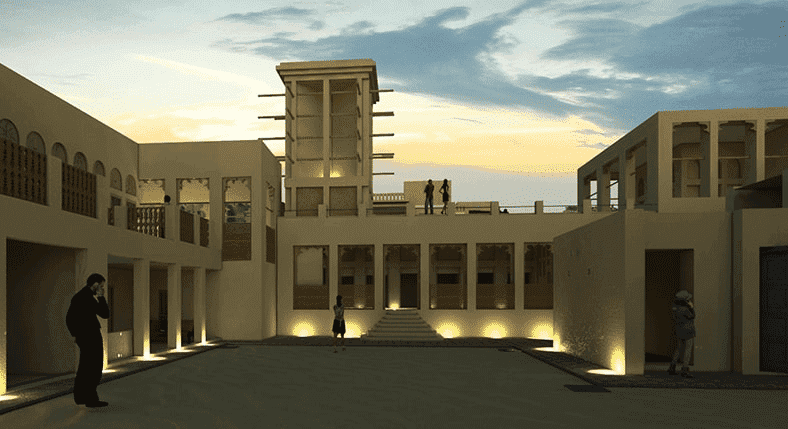 General Info
Sheikh Saeed Al Maktoum House in Dubai is a former residential quarter for the ex-ruler of Dubai. It has a lot of opportunities for you to get an insight to the traditional society and lifestyle in Dubai. It is a historic landmark which is the living epitome of strong bond between the citizens of Dubai and the ruling family. It shows the harmony, direct connection, and symmetry between the rulers and citizens. Built in the year 1896, Sheikh Saeed Al Maktoum House features insightful images to the stamps, documents, and coins in the rooms.
Here, visitors can get the chance to get in the depth of habitation of Monarch of Dubai in the right timing of 20th century. Currently, this house has been turned into a tourist destination. It gives the fine example of its design and nearby legacy. The house has been known to make it an ideal vacation spot for the people of all ages. At Sheikh Saeed house, the residences show his lifestyle in Dubai.
This historical landmark beautifully displays the imperial gathering of gems, records and social life. It is well regarded as a beautiful place for the painters and photographers and it seeks the traditional architecture of the city of Dubai. The beautiful structure of the castle displays the endlessness, simplicity, galleries and spaces where you can get back in time to see historical backdrops and collection of memorable pictures.
With traditional architecture, specific significance and window to the epic city of Dubai, it is really a worth place for architecture and Arabian history. It is really a worth attraction to visit for the tourists. On the top floor, you can embrace the views of Dubai skyline on wind towers where you can experience the vivid lifestyle of Dubai. You can capture the aerial view of the complex and skyscrapers. It is definitely an epic example of Arabian art.
Attractions
See the ancient coins, records, painting and photography etc.
Explore the past culture and tradition in the historical complex
Witness the stamps, private images, architectural designs and features
Explore the rich tradition and culture of old Dubai, showing the bonding between the citizens and the ruler
Notes
Opening hours – Friday 3 PM to 8:30 PM and Thursday 8 AM to 8:30 PM
Tickets are applicable as per the age