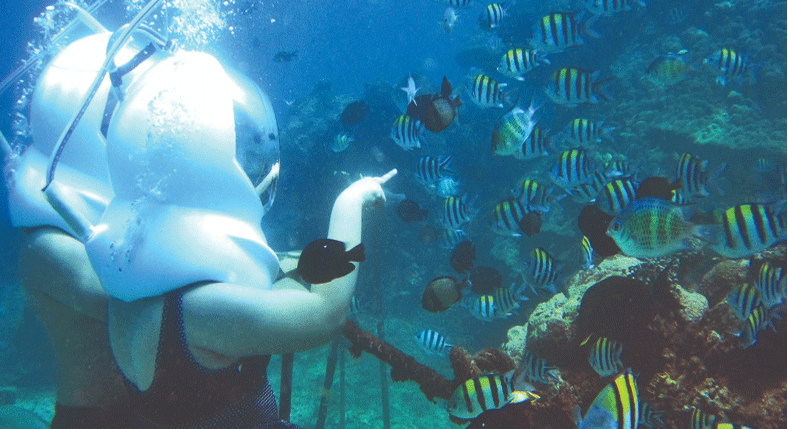 GENERAL INFO
Can you imagine yourself walking the ocean bed and getting close up to the stunning aquatic ecosystem in Bali and the thrills which come along the way? It seems like a fantasy but you can now experience the same in Sea Walker Adventure tour in Bali. This experience is really spine-chilling and you can enjoy the Goosebumps journey under water. You can observe the vivid coral reef, fish and other marine life in their own habitat. If you don't know diving or swimming but want to get introduced to the sea life, it is going to be the best experience of your life. In fact, it is an ideal option to get the feel of scuba diving for non-swimmers.

We offer a unique diving experience to the visitors which include expert guidance of professionals and special kit so you can dive deep into the ocean bed and walk like you are going to walk on land. It consists of modern marine equipments widely used in technologies for marine exploration, for example, well designed suit, clear visor helmet, and others. If you want to be flexible and light, avoid carrying air tank. You can go through a small course before entering the water.

It might seem a costly affair but it is really a value for money experience when compared to other water sports in Bali. The whole trip lasts 30 minutes. Later on, you will be transferred back. However, tourists with lung problems, heart problems, asthma or any other medical conditions are not allowed to enjoy this adventure tour. When you walk the sea, every second will be a memorable experience for your life.