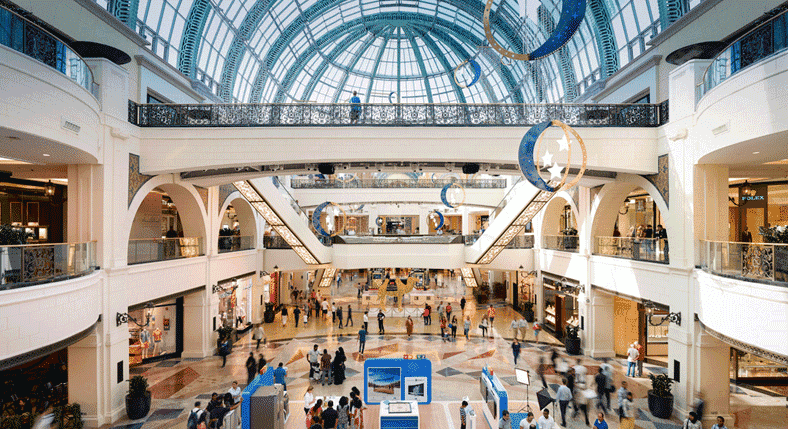 General Info
Mall of the Emirates is a luxurious shopping mall designed in a way that you can enjoy indoor entertainment, shopping and dining with an opportunity to taste continental delights and beverages. It is the leading and world's biggest shopping mall on Sheikh Zayed Road, Dubai, which welcomes millions of visitors year by year. Visitors can buy luxurious items, jewelry sets, and smart devices. You can visit café and mini bars to chill out and have an enjoyable trip.
The mall has been designed into multiple levels with several retail stores. You can find a lot of amenities like art galleries, amphitheatres, and pubs as it is designed well to please all the visitors. It is an ultra-modern entertainment venue with amazing art and theatre which has seating of over 500 visitors to enjoy cultural shows. You will never feel bored as you can watch exhibitions and live concerts. It also hosts activities like magic planet, Ski Dubai, and entertainment venues with delightful dining experience.
It is a fascinating mall for the visitors to explore the entertainment and recreational hotspots at the leading destination. It houses a lot of prestigious brands combined in a fashion dome and a dining facility. Some of its great attractions are lifestyle brands, departmental stores, electronics showrooms, home furnishing and largest hypermarket.
It has huge range of stores like Debenhams, Carrefour, Centre Point and Harvey Nichols. Carrefour is placed on ground floor which offers household goods, food items, shoes, clothes for children and adults, games, toys, rug, furniture, carpet and music systems.
Harvey Nichols is stretched around 3 floors as it offers huge range of designer clothes for women, footwear, and hand bags. Shoe-Mart is known for offering affordable footwear for kids, men and women. Magic Planet is the well-known hotspot for kids entertainment area.
It consists of VOX Cinema, Indoor Ski Resort and 14-screen multiplex playing latest movies. It has ski and skating resort to keep you cool in the scorching heat of Dubai. There is no lack of restaurants, retail fronts and flagships with glossy café on the first floor. There is also a large parking area on the mall with around 7000 vehicles' capacity.
The mall is also connected to the metro station through air conditioned walkway. It houses a snow-capped Ski Dubai which offers great fun for adventure lovers with a lot of activities like snowboarding, skiing, and swimming. It has fun games, exciting rides, and plenty of prizes at Magic Planet, an ideal spot for teens and kids.
Major Highlights
Airy parking spaces
Multi-level shopping mall with dining, shopping and entertainment options
Airy parking space
Special rides for kids at Magic Planet
Snowboarding, skating, and skiing
Catch latest movies at the multiplex
Things to Know
Opening hours – 10 AM to 10 PM (Saturday to Wednesday), and 10 AM to 12 AM (Thursday to Friday)