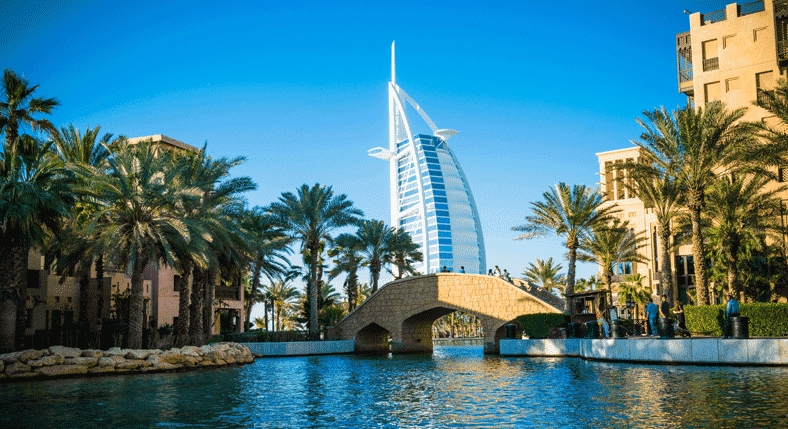 General Info
Madinat Jumeirah Resort is located around its own shoreline which is made of old Arabia to grab the attraction of tourists with its magnificence and aura. It is one of the best tourist attractions in Dubai for the travelers. You can feel amazed at the best shopping hub in the world. It gives you endless fun with great submerged zoo and indoor aquarium. Hotels, fringed waterways, and villas with wind towers are some of the best settings in traditional Arab village. It has a hindrance Terrance for serene views all day long as well as beautiful nights to make it special.
Palm Jumeirah features boutiques of 29 summer houses, two grand hotels, offices, 7 villas, over 40 bars and restaurants, 2 grand ballrooms and amphitheatres for over 1000 seats which are connected well. It offers ample wellness in spa, fitness and souk to pamper your senses.
It is located around 25 minutes from international airport and easily accessible from Dubai Media City, Dubai Marina and Palm Jumeirah. It is located just off Wild Wadi Waterpark, Burj Al Arab, and Jumeirah beach hotel. It has pleasant base for business travels, families, and groups at the well-furnished and airy guest rooms, private balcony and lobby lounge area facing the sea.
Madinat Jumeirah is has 2 km stretch of the private beach offering cool towels and fresh fruits. It features large pool complex with dedicated kids play area and marble lobby lounge. It has a huge range of dishes to enjoy the buffet in Arabian style at the bars and restaurants. You can find the combination of luxury and tradition. You can also have fun at the waterways and witness the architecture of citadel and wind towers at the Arabian City. It has the best combination of luxury and tradition.
You can always find the high quality of art, crafts and souvenirs to shop. You can find the fancy side of western culture to have fun at the Madinat Theatre. Enjoy the conventional retail scene at Madinat Jumeirah and it is located only few miles from Arabia. You can have fun by spending a few days to shop from the leading brands in the world where you can get amazing shopping experience with fine dining to get the most of Arabia.
Located on the shore of Arabian Gulf, Madinat Jumeirah truly gives a tribute to the Dubai's past. You can see the majestic view at the hotel in Madinat Jumeirah which invites you to experience the traditional Arabic soul and culture. The Arabian Resort of Dubai is the best attraction to get face to face with authentic culture of Ancient Arabia. Madinat Jumeirah really captures the beauty of the landmark which is set around its own beach. You can also take shuttle bus services and metro from the Mall. All walkways and waterways are here to thread their ways from different parts of Madinat.
Attractions
Restaurants, Bars, villas & hotels
Spacious amphitheatre
Enjoy boat ride
Private Guest rooms overlooking the sea with private balcony
Arabian culture and tradition, private beach & shopping experience
Big aquarium and submerge Zoo
Notes
Timings – Opens all day