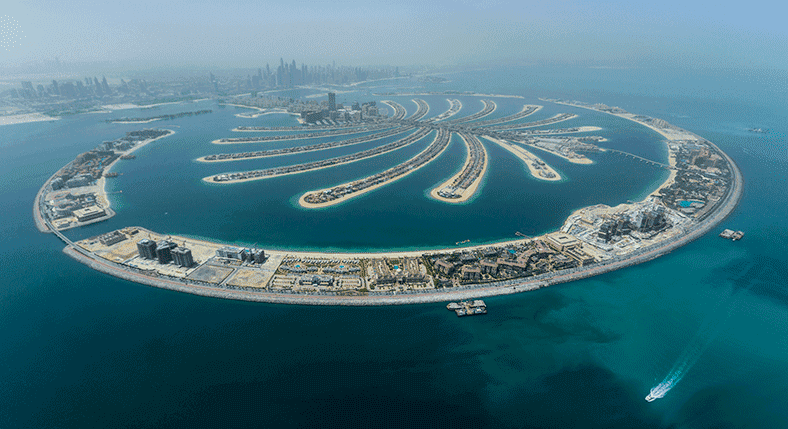 General Info
Palm Jumeirah is an artificial island in Dubai which has been a cynosure for all the tourists. It is one of the appealing attractions which depict the exotic beauty of all the landmarks. Shaped as a Palm tree, Palm Jumeirah consists of 2 km long trunk and each trunk serves as a gateway to the island. It consists of several private residents and business ventures with 4000 luxury apartments and villas which were handed over in phased period.
Launched in the year 2001, Palm Jumeirah is an ideal destination for the connoisseurs of luxury, which takes you to the exciting attractions in the world. Located in the coastline of Dubai, the artificial island is made up with 7 million tons of rock formations to make it a house of a lot of species. It is a paradise which will definitely mesmerize you in the golden sand of Dubai. The island has a lot of beachfront villas, luxury hotels, apartments, fine dining restaurants, sports facilities, buildings, water parks, spas and shopping mall. The island also houses the Atlantis, a 5-star hotel.
The island has breathtaking views for the visitors, which is designed well like a Christmas tree and it really deserves to be 8 th wonder of the world. It is a rich, well- settled, and fully occupied island with a lot of resorts and theme parks. It also has dolphin bay which presents a great picture of the island. This palm is connected to a lot of places with a monorail service as it has a lot of facts that can amaze you and attract you to this man-made beauty.
Palm Island is the most exciting and enterprising venture which takes you to breathtaking views of the landmark. It has a lot of leisure, residential and entertainment ventures and beaches which form a mini world map. The island has been designed to improve tourism. The beaches in Dubai are unique in the world as compared to anything else. It is a prestigious beachfront area to enjoy the private and exclusive lives with a lot of captivating attractions to have fun.
Major highlights
Resorts, hotels, spas, shopping malls and villas
Palm shaped island
Luxurious island since 2001
Leisure, residential and entertainment venues
Notes
The island is open every day for your visit
Chargeable activities at the island