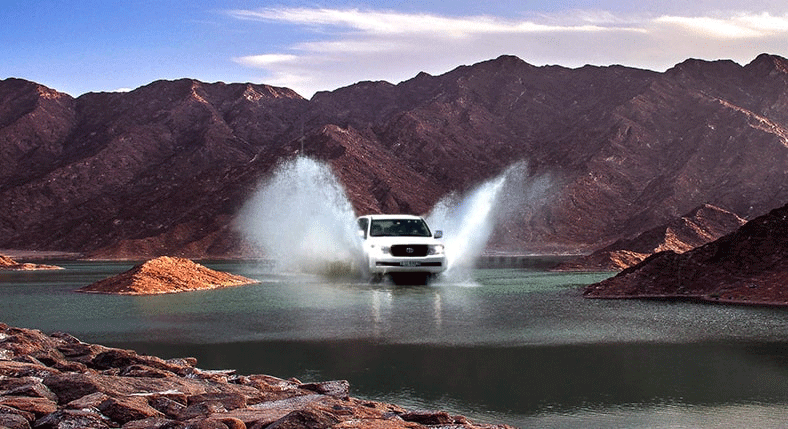 GENERAL INFO
Hatta Mountain is one of the most stunning tourist destinations in Dubai for nature lovers. It is well known for cooler and more soothing climate especially when you want to beat the heat of the red sand dunes and desert city. You can really have a wonderful experience in Hatta Mountain Safari and explore the serene beauty of the mountain. It is definitely the best place to enjoy great photography opportunities.
You can have great opportunities to have fun at Hatta Heritage village, water springs, Hatta Mountain fort, and even Hatta Hill Park on your trip. Hatta Mountain is one of the most beautiful attractions in Dubai. You can easily access attractive sites here. You can visit Hajjar Mountains, ancient fort, and museum which has rich collection of old photographs. It is such a memorable visit to imposing pools and hills of Hatta Mountain and it takes up to 6 hours to complete.
This safari is full of adventure, thrill and fun. It is a great experience to drive you to major landmarks along the picture-perfect destinations of safari. You can visit the following attractions in Hatta Mountain safari tour –
Hatta rock pool – It is one of the well-known tourist attractions in Hatta. Here, you can splash around the fresh water spring on the rock pool which is carved off the rocky areas of the river. You can find the fish in crystal clear water swimming in the pools along with the rocky bottom of river.
Hatta fort Hotel – There are 50 rooms in Hatta Fort Hotel and most of them have stunning views of nearby mountains. You can also enjoy the exciting lunch on your tour. You will also visit market for some shopping after having lunch.
Hatta Heritage Village – In this village, you can take the glimpse of the historic life in Hatta of the locals. There is a resorted fort with a lot of attractions like assorted palm building, mosque, and a traditional courtyard. Some of the amazing attractions here are weaving, local music, traditional dresses and handicrafts in Hatta village.
Hatta Hill Park – It is a wonderful natural green landscape for family gathering and picnic. There is a serene mountain walkway built for the visitors with shaded area and wooden benches to reach the park on high hill.