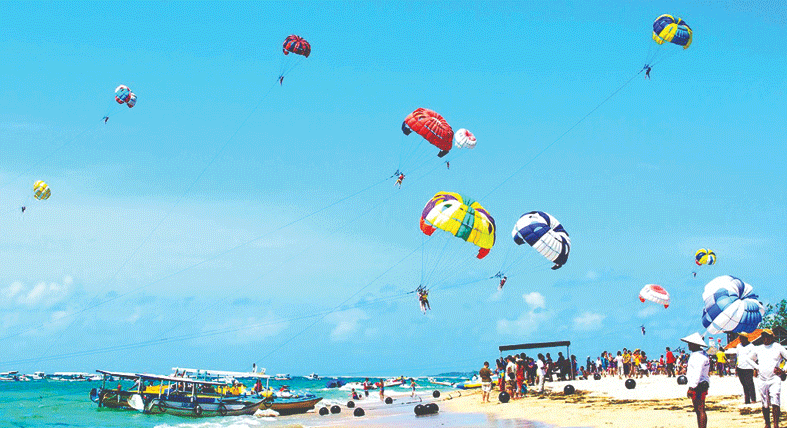 GENERAL INFO
Half day Water sports Activity at Tanjung Benoa beach
Located at the southern point of Bali, Tanjung Benoa has a quite beautiful beach with calm water. From the international airport, it will take around 20 minutes to reach by taxi. The beach is a tourist attraction for hang out and water sports activities. In fact, the perfect to enjoy the beach is through our half-day Water sports Activity.
It begins with the thrilling Banana Boat Ride. As the name says, it includes a ride on an inflatable boat shaped like a banana. It will give you a pleasure similar to riding a horse in the water. Subsequently, these water-sports activities will head for Rolling Donut ride. It includes an inflatable raft that appears like a Doughnut. After accommodating two to four people, the boat gets pulled by speedboats around the coast. It is a new beach activity that gives the fun without destroying rider's comfort.
If you are seeking out some adventure, then the next stoppage, parasailing is ideal for you. Every day, thousands of local and foreign tourists visit this beach, especially to enjoy the thrills of parasailing. It makes you feel like a free bird flying enjoying the stunning sea view from the top. All these water sports activities will leave an unforgettable experience in your mind that will bring a smile whenever you remember them.
All the water sports are completely safe and performed under the supervision of professionals. Usually, the water sports activities last around 8 to 12 pm, but afterward, you can enjoy other activities like relaxing, sunbathing, strolling, swimming, and others. The beach has many small huts, so you can bask and shelter when the sun is at the peak.