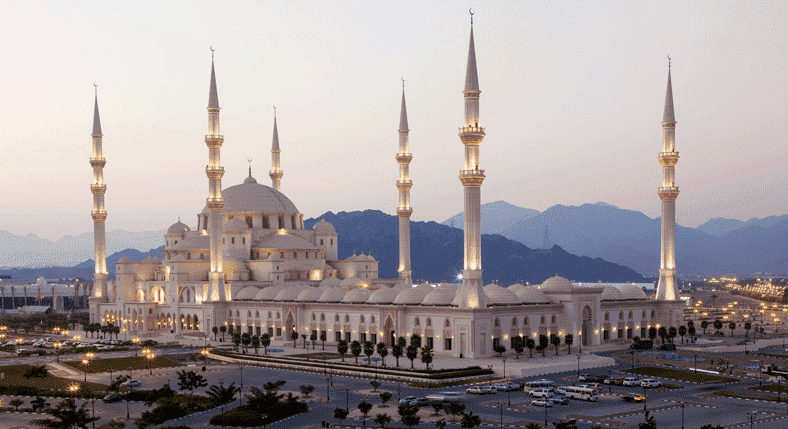 General Info
Grand Mosque in Dubai is the most visited religious place that brings peace and serenity to fills you with divine glow. Grand mosque is situated on the Bur Dubai creek which is one of the largest mosque with a seating capacity of 1200 worshippers. It is designed for the traditional Islamic architecture opened in 1900 A.D. known as a religious place & a school devoted to study of Quran where children learnt to recite it. A 70 metre high minaret rebuilt in 1998 is a hub for Dubai's religious and cultural life. The grand mosque consists of 45 small domes with 9 stained glass panels, sand coloured walls and wooden shutter, is blend perfectly with the surroundings of Bur Dubai. Located nearest Al Fahidi metro station between textile souk and Dubai Museum in Bur Dubai area. Sheikh Zayed Grand Mosque is known for its majestic, coetaneous Islamic architecture in the UAE.
Dubai has a number of Mosques that are familiar for preserving historic importance. The most important monuments of Dubai is the main centre of worship that relieve the magnificent artistic work of the past. You can venture this place and find the really amazing architecture which is an important centre for religious and cultural life. The Grand Mosque was established to manage the daily operations of the mosque which is the symbol of equality in the eyes of God. People from all region go there to caste prayers at the mosque. The mosque is at a distance of 134 metre from Dubai museum is also an integral part of Dubai Society that you can click some pictures as a symbol of prayer.
Highlights
A religious place for worship
Devoted as a school where children learn the recitation of Quran
Glimpse of cultural and religious life.
Centre of worship with historic importance and magnificent architecture.
Things to Know
Opens on Saturday to Thursday 9:00 AM to 10:00 PM
Friday 4:30 PM to 10:00 PM
Tickets charges for entered the mosque.