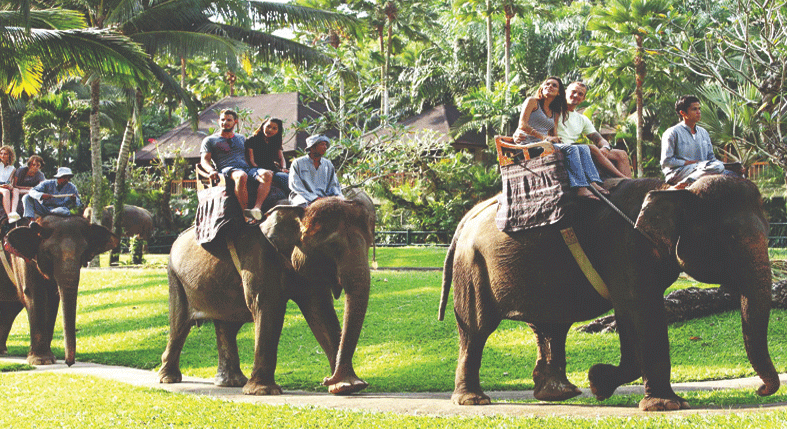 GENERAL INFO
Have you ever imagined riding an Elephant? The experience cannot be described in words. This tour is the right blend of sightseeing and elephant ride. You can witness the stunning sceneries in this ride and relax on a comfortable teak chair fitted on the back of elephant. We organize the elephant ride tour in a peaceful and tranquil Bakas Klungkung village. This rural landmark is located in the start of Bakas Levi Rafting, a well-known tourist attraction in Bali. The best thing is that this tour package can be combined with other tours. There are two packages of Elephant Ride tour in Bali – long and short Elephant rides.
The short Elephant ride lasts only 15 minutes which will take you through the lush green bushes as well as trails of Elephant Park. The long Elephant ride is more fun and exciting as it lasts up to 30 to 60 minutes according to your needs. You can roam around the lush green buses and river bank. You can soak in the breathtaking vistas of lush green hills when you relax on Elephant's back. When elephant walks in the water, you will enjoy the ride to the fullest.
In both rides, you will enjoy delightful Indonesian lunch and a welcome drink. It also offers Elephant tamers service as well as entrance to Elephant Park. Don't worry about safety. The ride is conducted as per safety measures and it also has insurance coverage. After the ride, we will transfer you back to the hotel accommodation.