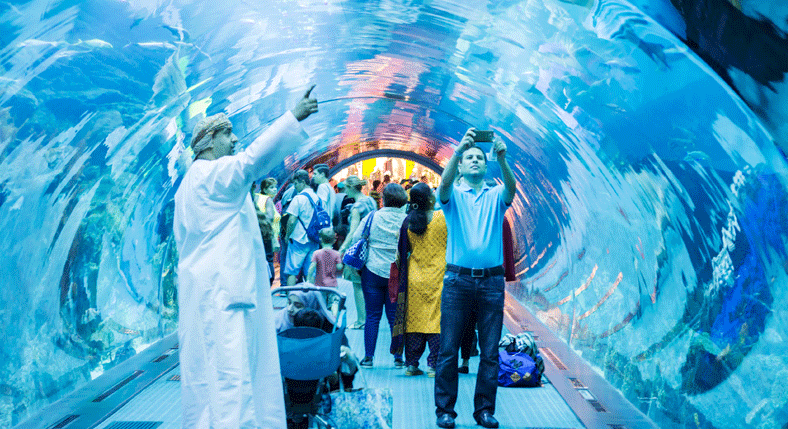 General Info
Embark on a luxurious and adventurous journey and get the real experience of bright marine life at Dubai Aquarium & Underwater Zoo. You can enjoy the way like you wouldn't want to leave this place at least for few hours. The aquarium features a huge collection of rays and sharks which give really memorable experience and the aquarium tank has great ambience.
You can encounter some of the rare marine species that you cannot find anywhere on planet. Dubai Aquarium is awaiting you with some unbelievable surprises. It has comfortable and best hotels to make your trip memorable and fun and you can also revel into the beauty of such a vibrant place with so many amazing activities. The underwater zoo has millions of gallons of water in the tank. It houses over 33000 aquatic creatures, making it one of the largest underwater aquariums in the world.
You will walk along the rain forest, hilly shores, and come face to face with giant catfish and the deadly piranha in the ocean environment on the underwater zoo. It has suspension bridge over the river with some rocky pool. The tank is filled with stingrays and sandy sharks to add more thrill to your journey. The aquarium is a beautiful wonder in itself where you can have different adventures and fun. It is really a memorable and spellbound experience to explore the great underwater life with family and friends. Stroll on 48m water tunnel and get the fish eye view to the marine life. It is the world's largest water tank which displays species of shark on a glass boat. Or you can enter the sea in a snorkeling cage and get wet with an oxygen tank and swim with these beasts in deep blue sea.
Things to do
Explore the deep blue ocean with stingrays and sharks
Get face to face with over 33000 aquatic creatures
Stroll on 48m tunnel
Experience the life of rare species underwater
Also visit 3rd floor of Dubai Mall on same building
Notes
Timings – 10 AM to 11 PM (Sunday to Wednesday) and 10 AM to 12 PM (Thursday to Saturday)
Tickets valid for full day
Buy tickets to enter the Underwater Zoo