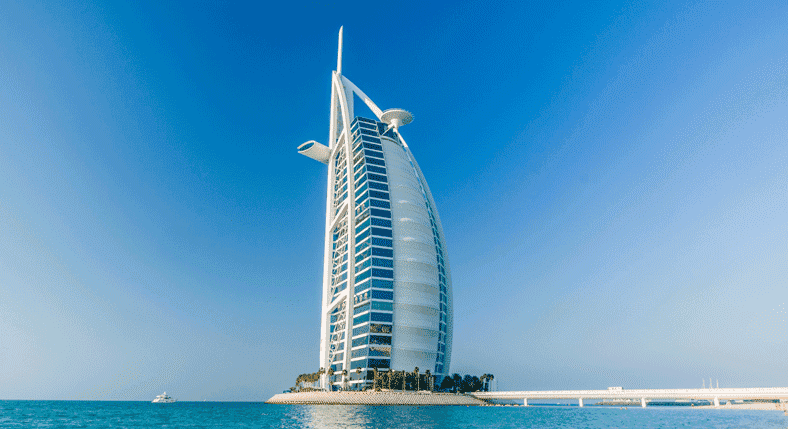 General Info
Burj Al Arab is the tallest and iconic landmark in the world with plenty of attractions and surprises to amaze the people of all ages. It is such a majestic complex which is well known for its appealing sail shaped design set on the island. It is not just a beautiful hotel and a living example of modernity in Dubai. Burj Al Arab is a land of prosperity and it is not just a hotel. The beautiful scenery and significant architecture will definitely fill you with plenty of wonders. The complex stands 1000 ft. tall and houses 200 suites. It is one of the most unique structures across the world. It beautifully stands on a man-made island which is located 280m far from the Persian Gulf beach. All the rooms in this hotel present breathtaking views of skyline.
There is a curved path which connects it to the mainland and hotel is split into 202 duplex suites, which are something more than ordinary. The suites are available in sizes ranging from 169 sq. m. to 780 sq. m. It is world's most expensive hotel for stay. It is also the best 7-star hotel in the world known for its extraordinary complex and architecture to offer the best services for food and accommodation. The hotel is known to have friendly, experienced and courteous staff offering the best services. Some of the amenities include 4 pools, private beach, and 9 restaurants and bars.
The hotel offers stunning views of the city, free Wi-Fi connectivity, LED TVs, butler on call, libraries, snooker tables, private elevators and cinemas. It also includes ample parking space, delightful buffet, spa, Water Park, kids' club and fitness centre.
Highlights
World's best 7 star hotel
Iconic architecture
World's most luxurious hotel located on artificial island
Best services at hotel and restaurant
Things to Know
Be sure to book this package if you want to visit the hotel
You can get there anytime