Bali is definitely one of the most fascinating and exciting tourist islands in Indonesia. Even a visit here sparks your senses and the intoxicating fragrance of clove oil and incense hangs in the dense tropical air when you arrive.
Despite the chaos and clamor on the major tourist places, Bali is still rich in natural beauty where you can find different types of attractions. Hikers can trek up volcanic peaks, surfers have the iconic swells, nature lovers can visit the misty waterfalls, and cyclists can get along the lush green landscapes bristling with age-old villages and rice terraces.
The rich arts scene in the island is another great attraction. Spa treatments and shopping in Bali are always happening if you want some relaxation. Spirituality adds another charm to the alluring Bali and visiting the holy Hindu temples and ceremonies are best things to do for you. All in all, there is something for everyone in Bali. So, without further ado, let's check out some of the best tourist attractions in Bali.
Uluwatu Temple (Pura Luhur) :-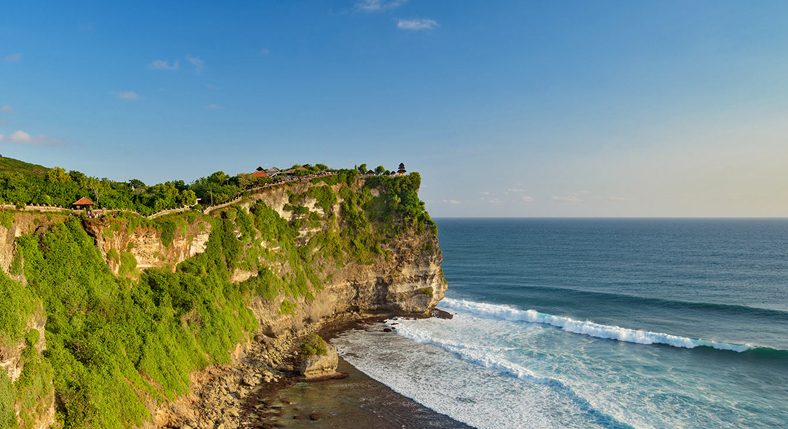 Also known as Pura Luhur, Uluwatu Temple is really a must-visit temple in Bali. This temple is perched beautifully on the rugged limestone cliff to add to its dramatic charm to create a scene from Cliffhanger. It is located in Bukit Peninsula, which also has few of the best beaches in Bali like Padang-Padang, Balangan, and Nyang-Nyang, along with a lot of exciting surfing spots.
The temple is also built as a significant structure in itself, which is expanded and built several times since 11th century. It is perched atop 70 meters above the level of Indian Ocean on a steep cliff. You will be able to capture the exotic view of the sunset over Uluwatu temple and the exotic view on either side once you reach the higher grounds.
Pura Tanah Lot :-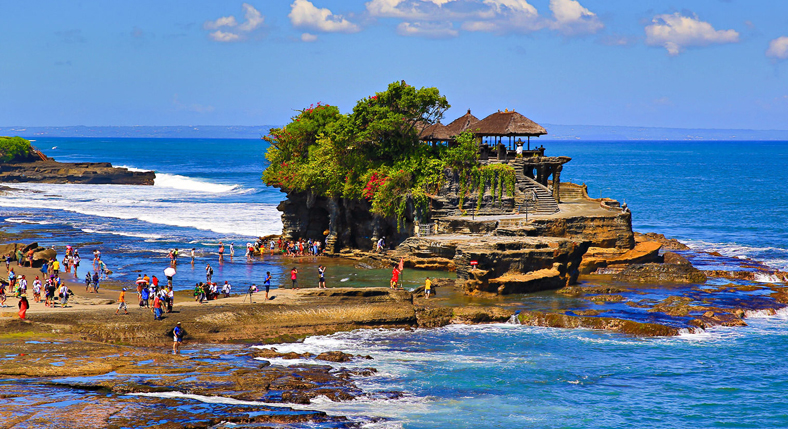 It is an exotic rock formation which also serves as a base of a well-known religious attraction, Pura Tanah Lot temple. It is well known for its cultural importance and serenity. It is among the seven temples forming a ring in southwest of Bali and is also described in Balinese mythology. It is recommended to visit here during low tide so you can get full experience of walking through the water to the temple.
Ubud :-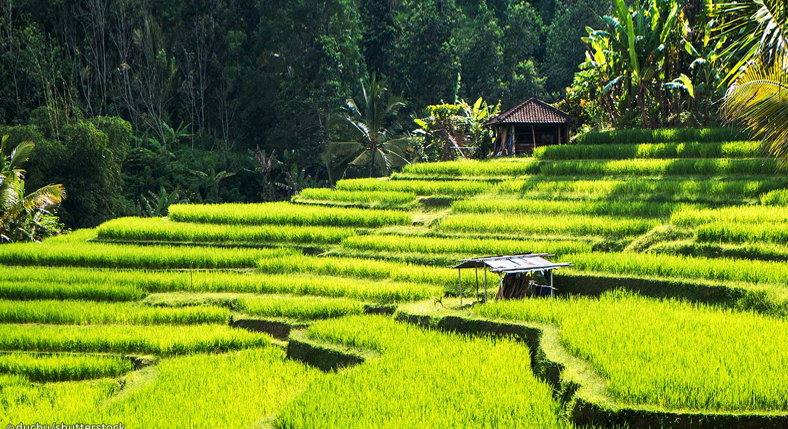 Even though you want to skip the 'eat, pray, love' track, you should still visit Ubud. All the action, energy and people in Bali are focused in this heart of Bali. Ubud is loaded with the best of nature, people, culture, temples, rolling paddy/rice fields, temples, parks and manicured gardens in Bali.
You may join a cooking class, take bike tour, enjoy adventure activities like abseiling and whitewater rafting, relax with meditation and yoga, immense in the theatres and arts, get pampered in spa sessions, and the all-time favorite shopping therapy. Ubud has something for every discerning traveler.
Spot Dolphins at Lovina :-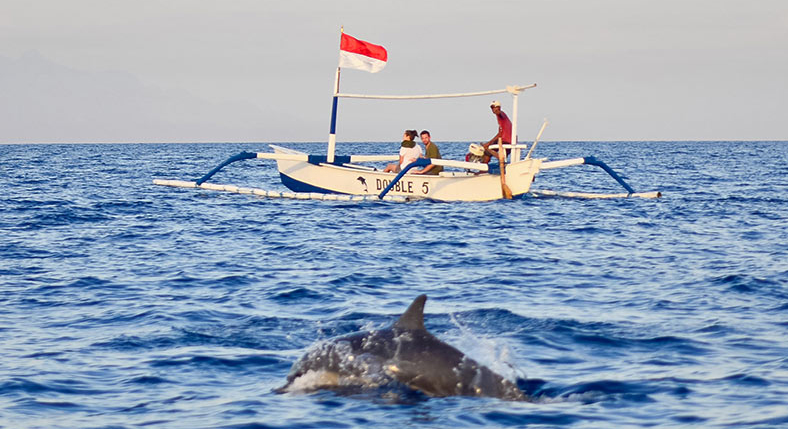 Dolphins are another major attraction in Bali. Lovina is one of the best destinations to get the sights of dolphins in boat trip. Leave the beach in the morning as it may be crowded with other tourists who are here to do the same in peak season. But it is literally worth visiting when you spot herds of dolphins jumping off the sea happily. Along with dolphin sightings, Lovina has a lot of activities and attractions to try. It also has some of the exotic scenes to chill out with live music and in cafes.
Pura Ulun Danu Bratan :-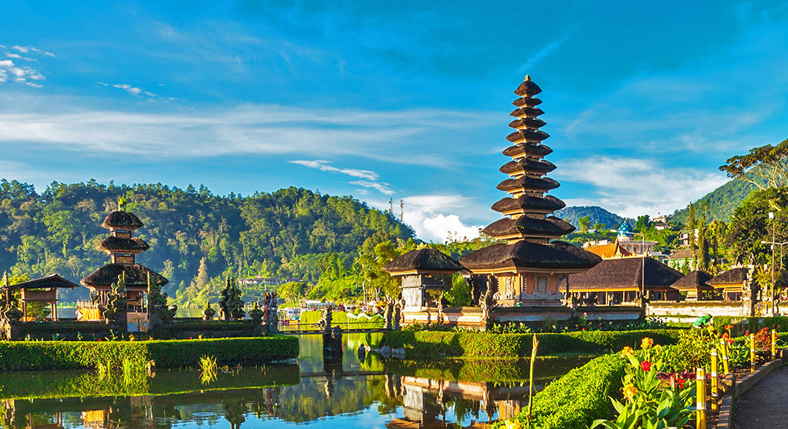 Pura Ulun Danu Bratan is a well-known temple in Bali located by the lake. This temple rests in serenity by the Lake Bratan, unlike other temples which perch over the rocky cliffs. This temple is structured well and its sight is reflected well on the transparent lake which adds up to its charm and beauty.
Besakih Temple :-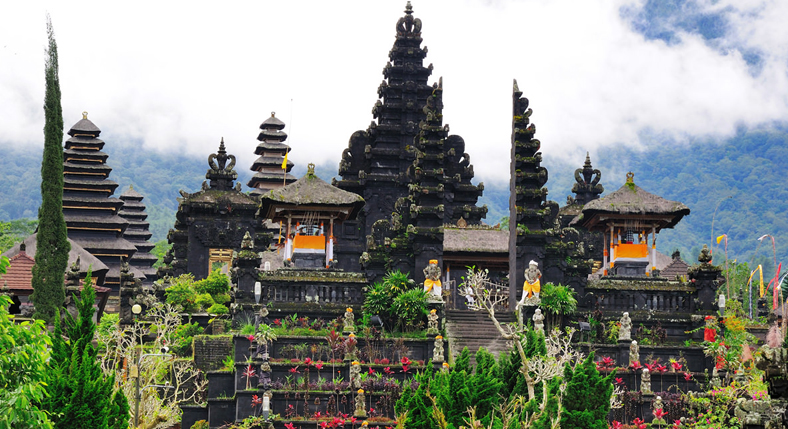 Also called as the 'mother temple' of Bali, Besakih Temple is perched at 1000m over the Mount Agung. It is the largest temple in Bali. The three main temples devoted to Lords Brahma, Shiva and Vishnu are surrounded by 18 different sanctuaries from different caste groups. It is the holiest and biggest temple in the island and is beautifully covered by the scenic and exotic hills, rice paddy fields, streams, and mountains.
Pura Besakih has three temples devoted to trinity gods in Hindu religion. In the center, Pura Penataran Agung has white banners of the destroyer, Lord Shiva. On the right, there are red banners with Pura Kiduling Kreteg for the creator, Lord Brahma. There are black banners with Pura Batu Madeg to represent the preserver, Lord Vishnu. You can also visit other temples here but most of the inner courtyards in them are closed for public as they are built for pilgrims only.
Visit Nusa Dua Beach for some luxury treatment :-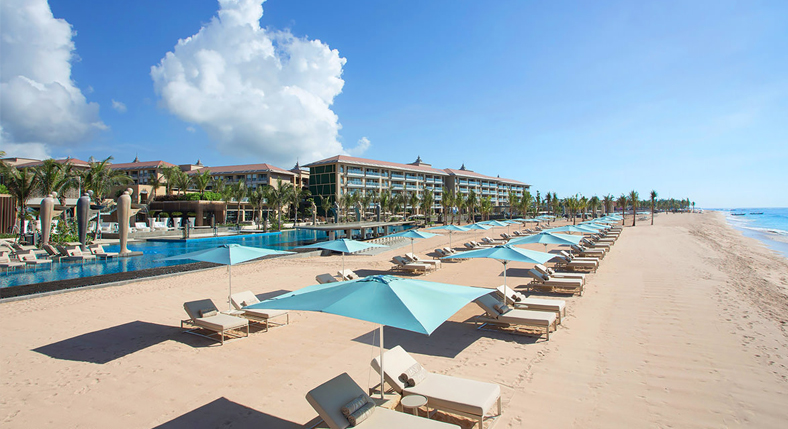 If your budget allows, you may visit the Nusa Dua beach which is dotted with world-class resorts and hotels. You will be rewarded with pristine private beaches to soak in the sea and the sun. It is also ideal for honeymoon couples or people who want some relaxing and private getaway.
Kuta Beach :-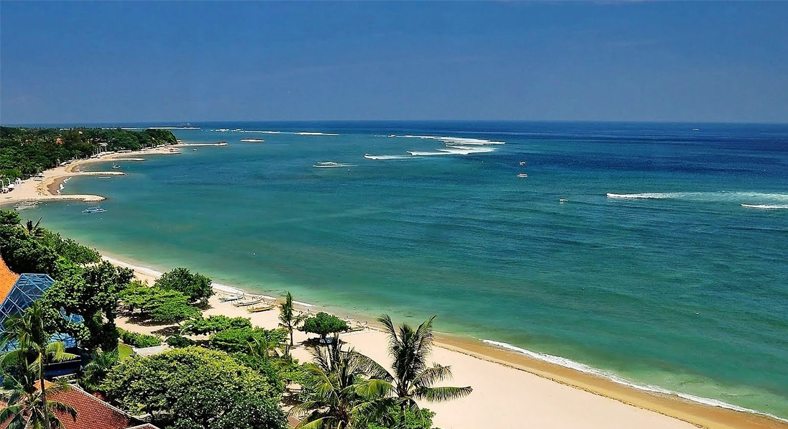 You can definitely find party scene and life here in this popular beach in Bali. If you love party and socializing, you may visit here and find different places of various atmospheres, i.e. from café and pub to Hard Rock Café.
Mount Batur – Hike/Climb at Kintamani :-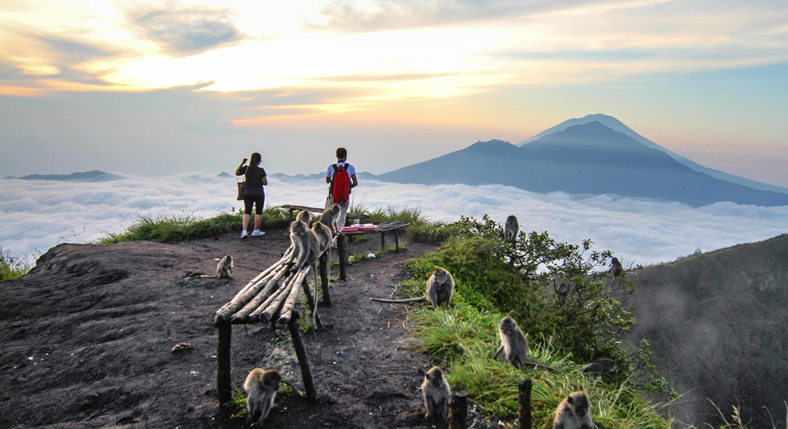 Mount Batur lies up in the highland of Kintamani in the East of Bali. You can climb up 1700m high summit of this active volcano. It is really an amazing experience for any avid traveler and it is definitely a place you shouldn't miss. Get the ultimate experience with sunrise hike, starts from 4 am to reach on time for sunrise in 6 am. The hike is really easy and treks are marked well. You can witness the views in all direction from the highest peak.
Bali Pulina Agro Tourism to witness the Coffee Plantation :-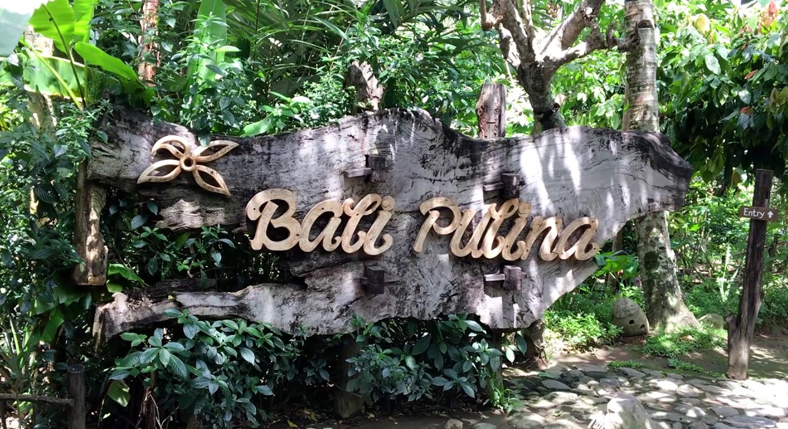 It is virtually a Zen place to sit back and relax with a cup of coffee when embracing the coffee plantation as far as you can see. You will be served with various tea and coffee to taste. Also see how Kopi Luwak is made and get closer to the civet cats.